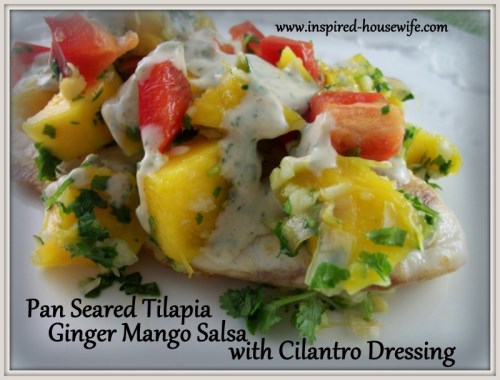 As a child one of my favorite things to do was go fishing with my dad. I remember many times waking up before the sun rose, dressing in layers, and grabbing my child sized fishing rod. What I loved most about fishing were the talks my dad and I had and the fun memories.
I remember this one time we were visiting my oldest sister in Oregon.  My sister lives near the Rogue River and salmon fishing season was in full swing. The river was quite high that year and the salmon were plentiful. My dad baited a rod and showed me the best way to cast the reel into the raging Rogue waters. I could hear the sweet squeal of the line as it rushed from the reel hitting the cold water.  On my third cast my line lunged forward nearly pulling my 10-year-old frame into the water. I dug my heels into the side of the river bank trying not to fall in, but only minutes into this tug of war I could no longer fight. My sister's husband grabbed the rod and fought that fish another fifteen minutes running down the rocky river bank and in the end my fishing rod brought home a nearly 32 pound salmon. Fishing for salmon was exhilarating, but it is the fun times had with my dad and other family that make it more rewarding.
The other night the kids and I got home from a nearly all day play date and I open my fridge to figure out what to cook. In the bottom crisper drawer of my double-sided refrigerator lay three mangoes. One of the mangoes was perfectly ripe ready for use. Beside fruit salads, smoothies or eating mangoes plain I had never cooked with them otherwise. I logged on Pinterest and typed in the word mango. Lots of beautiful pictures came up and a curry recipe caught my attention, but I did not have all the ingredients. I remembered I had tilapia in my freezer and I added in the word fish next to mango. Up popped this pan seared halibut recipe. I had most of the ingredients and figured I could wing the rest. My recipe is adapted from Everyday Paleo.
Ginger Mango Salsa on Seared Tilapia with Cilantro Dressing
This recipe is out of this world yummy I shock myself sometimes in my kitchen considering a decade ago I burnt water. :)
The Tilapia
Four to Six Tilapia Fillets (I had frozen tilapia I let thaw in a bowl with cool water running on them.)
Sea Salt and Pepper to taste – take your salt and pepper and rub it into your fillets on both sides, then set to the side.
2 Tablespoons Coconut Oil (trust me the coconut oil gives the fish a wonderful flavor)
Heat your coconut oil in a pan over medium heat for a few minutes. Once the oil is hot place your fish fillets and cook about 4 minutes on each side.
Ginger Mango Curry Salsa
1 Mango peeled and diced
1 Red Bell Pepper diced
2 Cloves Garlic minced
1 Shallot diced
1 Teaspoon grated Ginger
2 Teaspoons of Lime juice from a bottle or juice from half a lime.
1/2 Cup of minced cilantro (I have a small food processor like this that I minced the garlic, ginger, and cilantro in.)
Take all ingredients and mix them in a bowl, then set aside.
Cilantro Dressing
1/2 Cup Mayo or use Greek Yogurt. (I used an egg free mayo and I did not have quiet enough so I also added in Plain Greek yogurt. My mix was 1/4 cup mayo to 1/4 cup yogurt)
1/2 Cup cilantro
2 Teaspoons Lime Juice
1 Teaspoon Cumin
2 Teaspoons of Son of Italy Ground Hot Cherry Peppers or hot sauce to taste
Place all ingredients in a food processor and blend until smooth.
When you are finished cooking the fish and making both the salsa and dressing you are ready to eat! Place tilapia on a plate covering the fish with the yummy and flavorful ginger mango salsa and dribble the cilantro dressing on top. Serve and enjoy. My kids even ate this meals with hardly any fuss.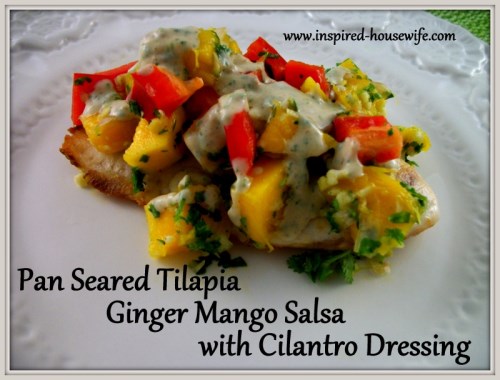 XOXO,
Amee