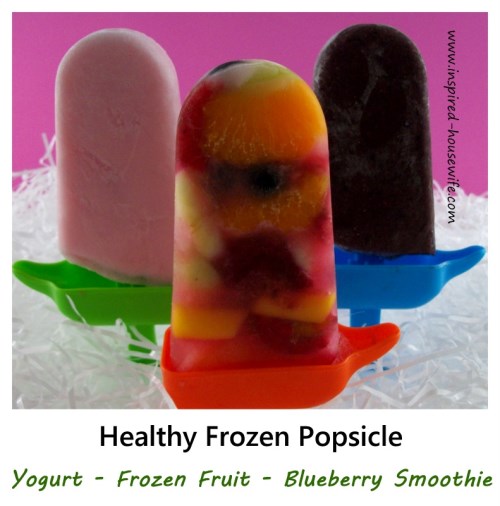 I love being a mom and having kids for a number of reasons.   The hugs, kisses, and cuddles are a treat.   I get to make fun crafts and play outside with the water table and in our homemade sprinkler.  What I love most about having kids is creating fun, colorful and delicious healthy snacks.   As a child I loved popsicles, but most popsicles are full of colors, additives, and bad sugars.  My children do not get a lot of sugar, but summers are blazing hot here in Maryland and nothing is better than a frozen treat.
My kids love fruit, they love yogurt, and my son who is terrified of our blender due to sensory issues begs me daily for a smoothie.  This past week I decided to create three different popsicles and test them out to see if they were kid tested and approved.
Blueberry Green Smoothie Popsicle
1 Cup blueberries frozen or fresh
1 Banana
1 Cup Spinach Leaves or Kale
6 Baby carrots
1 Cup Greek Yogurt (I used vanilla)
1/2 Cup Flax Seed (optional)
1 Cup Home Canned Peaches or 1 peach or caned peaches
1/2 Cup Coconut Milk or other milk of your choice (optional)
Blend all ingredients together then pour into molds and put into freezer should be ready in a few hours.  If you have left overs drink it because you made yourself a delicious blueberry green smoothie.
Greek Yogurt Popsicle
Greek Yogurt whatever flavor your kids like the most, I used strawberry because that is what I had on hand.
You can add honey or fresh fruit to the mix as well or only yogurt like I did.
Take your yogurt and put it into the Popsicle molds it should be frozen in a couple of hours and enjoy.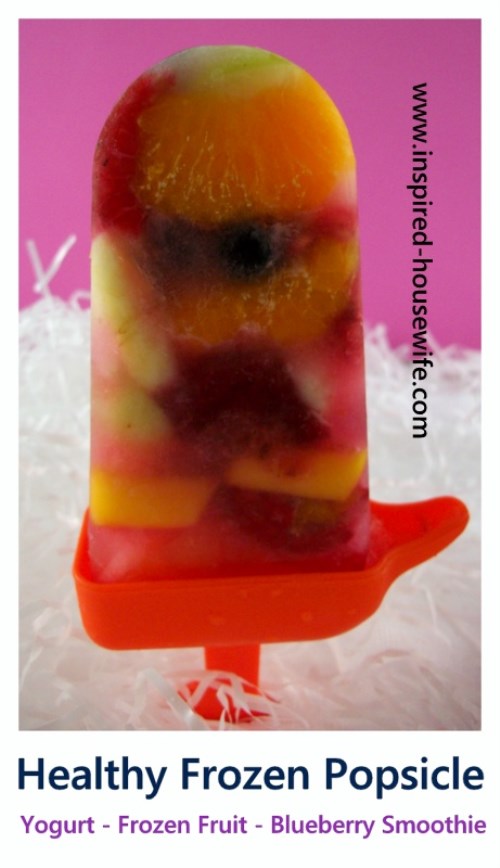 Fresh Fruit Popsicle
1/2 Cup Raspberries
1/2 Cup Blueberries
Half a banana
1  Mango
1 Mandarin Orange
Handful of grapes halved
Fruit juice of choice (I used apple juice)
Wash your fruit and drain really well.  Cut fruit up into small pieces and take pieces of your fruit and put them in the popsicle mold.  Make sure you press the fruit down so there are no air holes and when you are almost done filling with the assorted fruit add in enough juice to fill and cover.  If you have extra fruit then you also have a wonderful fresh fruit salad.
These three popsicles for fresh fruit, yogurt and blueberry smoothie recipes are easy to make, taste yummy, and on a hot steamy summers day a perfect treat for the little ones and your inner child.
As you can tell the popsicles are kid tested and approved!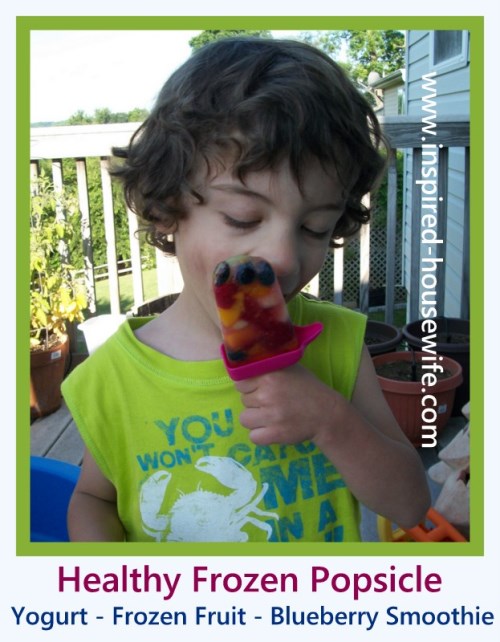 XOXO,
Amee
If you enjoyed this post please share it with your friends on Pinterest by clicking the "Pin it" button below or "share" it on Facebook.
Shared on these fine blog linking parties: