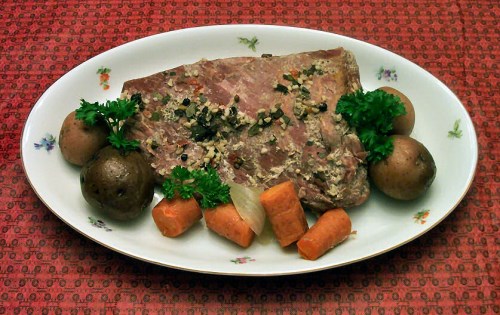 This is a really good basic recipe for corned beef and cabbage my kids devour.  They are not big fans of the cabbage, but they love the carrots and potatoes I also add into the mix.  Generally, I get about a 3 pound piece of corned beef from the meat section of the grocery store.  It is vacuum-packed and usually contains its own seasoning package.  You can use this seasoning package, but I much more prefer the McCormick® Pickling Spice.  Until recently, I used the seasoning package that came with the corned beef, but I wanted to try something different, and found this brand of seasoning.  In fact, they have a recipe on the bottle for corned beef and cabbage that is very similar to what I made previously.  My main difference is I never have enough room after the kid-preferred carrots and potatoes for the cabbage, and so I boil the cabbage separately with some pickling spice. Overall, this recipe results in a very tender and flavorful corned beef, which is mostly gone by the end of the meal.
Ingredients
3 pounds of corned beef
10 – 15 baby red potatoes
1 pound of carrots
1 large onion
1 – 2 teaspoons of minced garlic or garlic paste
1 tablespoon of pickling spice
water (amount varies with size of slow-cooker)
1 small to medium cabbage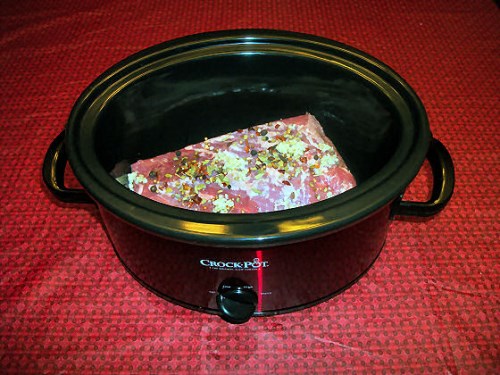 Instructions
1.  Place the corned beef in the bottom of Crock-Pot®.
2.  Sprinkle the pickling spice over the top of the beef evenly.
3.  Place cut carrots, wedged onion, and potatoes around and on top of the beef.
4.  Place the garlic on top of the vegetables.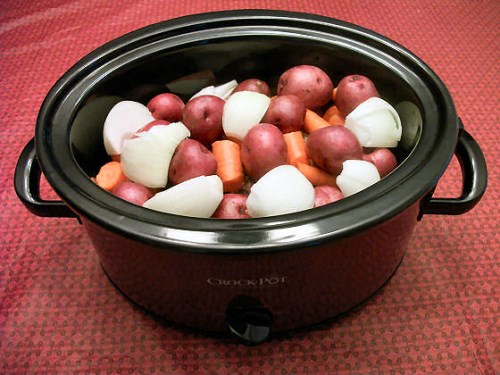 5.  Fill the Crock-Pot® with water until it covers the beef and is just under the potatoes above.
6.  Cook for 7  to 8 hours on low.
7.  If you have room in the Crock-Pot® for the cabbage, add it only during the last 10 to 20 minutes, or else it will become over-cooked.  I prefer to cook it separately for about 15 to 20 minutes in a large pan of water and about a teaspoon of pickling spice.
Disclaimer: Crock-Pot® is a registered trademark of Sunbeam Products, Inc.