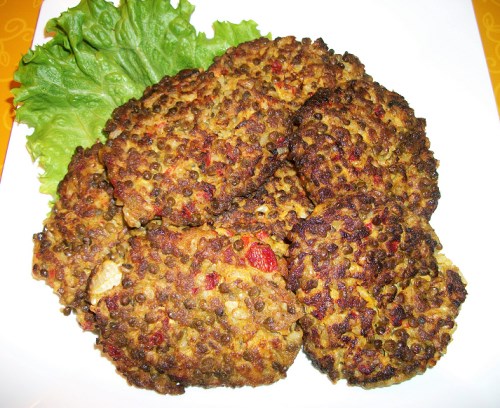 Indian-style recipes are some of my favorites.  Not only are many dishes gluten-free and vegetarian, but they are great for those who seek a healthier lifestyle.  While my wife was pregnant, with all of our children, she ate significantly more food.  Unfortunately, I followed this trend of increased food intake alongside her, especially with our first child.  In addition to a strenuous exercise program, I lost a significant amount of my weight by eating healthier foods like lentils.  This is another recipe I created, and I hope you will like it.  This recipe goes great with hummus and flat-bread on the side (see hummus recipe).
Gluten Free Curried Lentil and Rice Patties
Ingredients:
1 1/2 cup of cooked brown rice
1 1/2 cup of cooked green lentils (cooked al dente, see post on how to cook lentils)
1 cup of crushed Rice Chex® Cereal (see gluten-free breading post)
5 large eggs or equivalent amount of egg whites
3 – 4 cloves of minced garlic (I use 1 tablespoon of garlic paste)
1 large onion chopped finely
1 tablespoon of ground cumin
1 tablespoon of curry powder
1 – 7 ounce jar of roasted red peppers chopped finely
1/2 teaspoon of salt (optional)
Light oil for cooking in skillet (Vegetable, Coconut, Mustard, etc.)
Instructions:
1. Mix all ingredients together thoroughly.
2. Preheat skillet and light oil to medium-low heat (add a couple tablespoons each time a new batch is cooked).
3. Place about 1/2 cup of raw patty mix into skillet and form a round patty about 1/2 to 1 inch thick.  Cook until golden to darker brown color.  Turn over carefully and cook other side.  I use two spatulas to turn over the patties because they are fragile until cooked.  I also cover them to allow for more even cooking.
4. Serve hot.  These also seem to taste even better after a period of refrigeration, and can be eaten cold as a snack.
5.  Makes about a dozen patties.
If you enjoyed this post please share it with your friends on Pinterest by clicking the "Pin it" button below or "share" it on Facebook.