Today is Day 6 of The 12 Days of Christmas and I am sharing with you a gift of kindness my little family does every year for someone during the holiday season.
Give the Gift of Surprise
We take all our change whether it is from my husband's pockets, the bottom of my purse, a penny found here and there in a parking lot or even in the laundry and put it into a 1 quart glass canning jar.
When the jar fills up with change I wrap it up and put it into a box.
When the holiday season rolls around, all rolled and lose change is taken to the bank to be cashed.
We use our saved change and take the family out to dinner.  The catch is whatever money we do not use up we leave the rest in tip.
We try to stay under $40 for the five of us and give the rest of the money as tip.
Last year we had collected a little over $94 and only spent around $35.
We usually leave the extra money in a card and wish them a Merry Christmas.
It is super fun to do and a simple way to give back.
It is also a real-life example for our children of how to give the gift of kindness during the holidays or anytime of the year.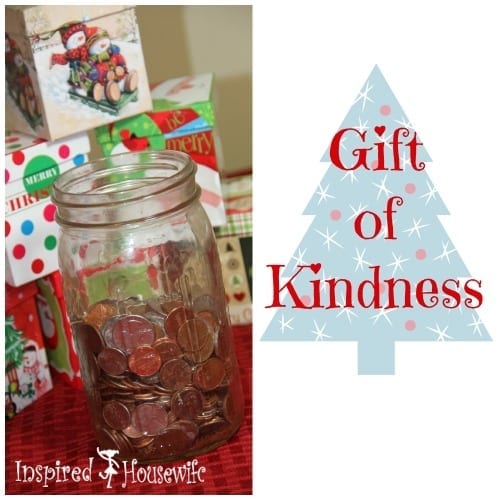 What gifts of kindness do you do during the holiday season?
Share your gift of kindness ideas in the comments.