I love this time of year because of the Christmas lights, the food, the decorations, but mainly I love all the fun holiday traditions.
Today on day seven of the 12 Days of Christmas I am sharing with you a list of my favorite and fun holiday traditions I love and some I do with my family.
I am also sharing a fun way to make your Christmas tree more personalized from my dear friend Shelley, who makes fabulous jewelry over at Fourbeadden Love Jewelry.
Make Holiday Memories Last
I met Shelley back in 2001 where my hubby and I had our first duty station when he went active duty in the Army.
We attended the same church and she had these cute little boys and loved to decorate and craft.
I loved to craft and decorate too so we got to know each other that way.
Last Christmas Shelley posted a favorite tradition she has done with her boys since they were little.
Her boys are now practically grown, but it is still something she does every Christmas with her family.
I loved it so much I asked her if I could share her photos and she was excited I loved her fun holiday tradition.
Much like my Thanksgiving table cloth post, Shelley and her family do a personalized tree skirt by painting the hands of her boys and then pressing them onto the skirt.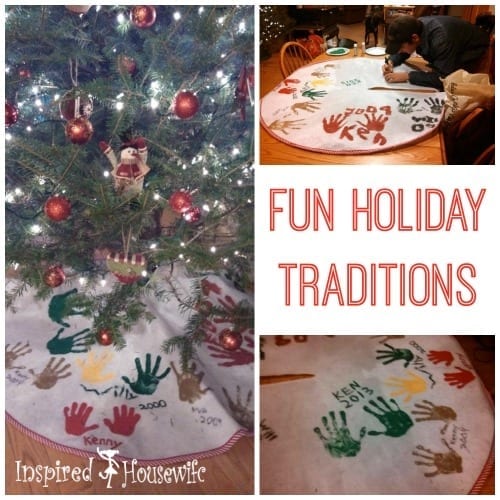 She then dates the hand prints and lets them dry.
She said, "I love the chubby little handprints next to the big hands. How quickly they grow and change!!"
And yes kids do grow and change so quickly and I thought her fun holiday tradition was worth sharing.
All you need is a white tree skirt, some paint, and a pair of hands or little baby toes.
My Top Five Fun Holiday Traditions
I always get the kids matching PJ's or do something matching for them. It is a fun way to bring about the Christmas cheer and a perfect way to get some great holiday photos.
When I was a little girl my favorite thing to do was drive around our town and see the Christmas lights and I have carried on this tradition with my family too.
As a little boy my husband grew up to his mother making homemade cinnamon rolls. He said the entire family would get involved in the process of making them. While we do not make cinnamon rolls we do make our kids their favorite chickpea chocolate chip cookies.
Christmas day is important to us, but we also know Christmas is more than just presents or giving people things. It is also about a little baby born in a manger so we take time to read the nativity story so our kids grow up knowing the true meaning of the holiday.
One tradition we love to do as a family I posted yesterday was showing an act of kindness by leaving a large tip from our loose change. You can read more about how we do it HERE.
What are some of your families fun holiday traditions?
Please share some ideas in the comments.