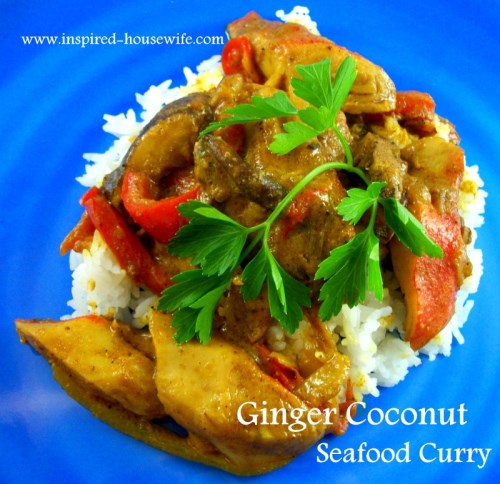 Thai Inspired Ginger Coconut Seafood Curry

My husband and I love Thai food, but where we live finding a good Thai restaurant is next to impossible.  Luckily for me my hubby loves to cook and experiment in the kitchen.  A few months ago he brought home some imitation crab meat and whipped up this fabulous seafood curry.  Our kids even ate it and loved every bit of it too.  Hope you love it as much as we do.
Ingredients:
3 tablespoons of olive or coconut oil
1 large of onion, sliced into rings
1 tablespoon of garlic paste or minced garlic
1 tablespoon of minced ginger (I used ginger paste)
2 pounds of seafood (I used two 16 ounce packages of imitation crab meat)
1 tablespoon of ground cumin
2 tablespoons of curry powder
1 can of coconut milk
2 tablespoons of brown sugar
1/2 lime, use juice
1 – 7 ounce jar of roasted red peppers chopped finely or one sliced red pepper
1/2 teaspoon of salt (optional)

Instructions
Generally, I use a large wok for all my curry recipes, but a large skillet would work fine.
1.  Heat oil and add sliced onion under medium heat.  Sauté until soft.  If you are using fresh peppers, then you can sauté them about halfway through cooking of the onions.
2.  Add garlic and ginger near end of onion sauté.  If you use the roasted red peppers, you can add them at this time.
3.  Add coconut milk, brown sugar, lime juice, salt, curry powder and cumin, and stir until dissolved.  You may need to turn down the heat slightly to prevent burning.
4.  Add imitation crab or other seafood.  Stir gently if you use the imitation crab to prevent it from breaking apart.
5.  Cook on low-medium heat for about 20 minutes, stirring gently often to prevent sticking and burning.
6.  Serve hot over or with brown or white rice.  It is also good just by itself.
Serves 6-8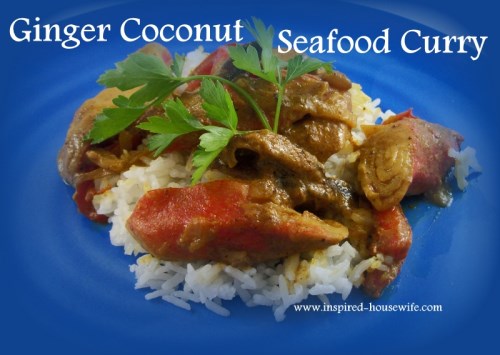 If you enjoyed this post please share it with your friends on Pinterest by clicking the "Pin it" button below or "share" it on Facebook.

XOXO,
Amee
Shared on these fine blog linking parties: