A lovely tree stood tall on her hearth decked out in holiday cheer.  The pictures were magazine perfect, and as I read her words her tree became even more beautiful.
This was no ordinary Christmas tree.  Andrea called it the "The Giving Christmas Tree."
Her post spoke to me on a personal level, because during this time of year many people become wrapped up in the buying of presents and decorating that we lose sight of the true purpose of the holidays.
Make The Holidays About Others
Andrea and her husband decided they wanted to show their children how to give instead of receive.
Instead of putting presents under the tree, Andrea and her husband sit down as a family each night discussing their blessings and direct their conversation to those less fortunate.
They place money on the tree and talk about the best use for the money.
As Andrea told me, "Do we know where it will go?  No.
It may pay a single mothers rent for the month of January.  It may support a missionary overseas.
We don't know where yet, we will decide.
What better way to teach about Christ than to give?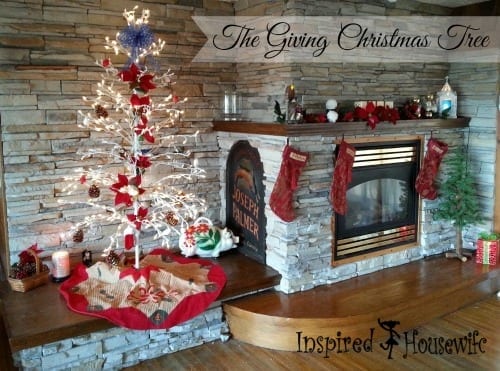 Will there be gifts for the children  on Christmas morning?  You bet.
Their stocking will be stuffed full, and our day will be full of laughter.
What more do we need?"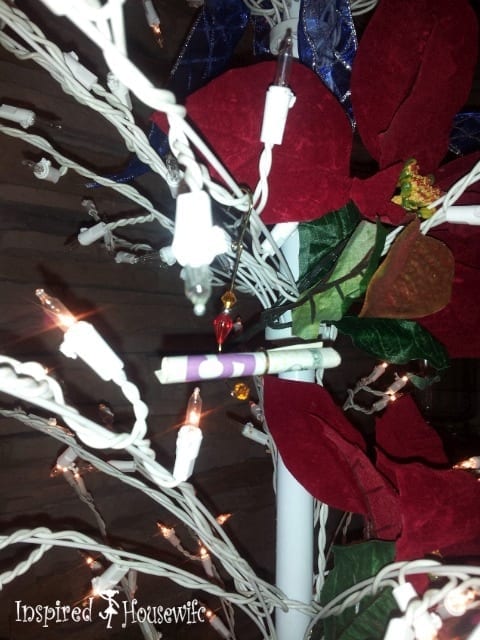 I love the idea of the giving Christmas tree because it is a tangible way to show those around us, especially our children what Christmas is truly about.
I thank Andrea for giving me permission to use her photos.
In what ways do you give instead of receive during the Holidays?