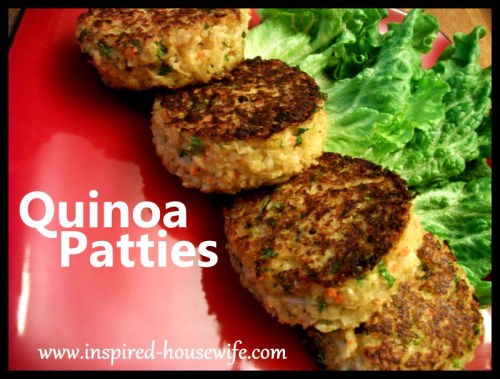 When we decided to go gluten free as a family, one of the new foods introduced to us was the seed quinoa. I had never heard of it, but quinoa is now one of our favorite staples in the pantry. Quinoa is wonderful because it cooks quickly, it is a super nutritious complete protein, and it has a wonderful mild flavor all on its own. I love quinoa because most quinoa is naturally organic and free of nasty pesticides or a GMO. Quinoa is perfect to use in salads, as a side like rice or even as a main dish.
A few months ago I experimented with quinoa more and found several recipes for quinoa burger patties. The only problem was they were not gluten free. With a little creativity and my husband as the taster I created these flavor packed and healthy quinoa burger patties.
Quinoa Burger Patties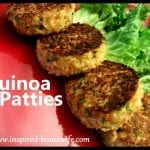 Print Recipe
Quinoa Burger Patties
Ingredients
2.5

cups

of cooked quinoa

4

eggs

1/3

cup

of chopped cilantro

1/3

cup

of chopped carrots or zucchini

1

tablespoon

of garlic paste or three garlic cloves minced

1

onion

chopped

1/2

teaspoon

of sea salt

1

cup

of crushed and ground rice Chex or gluten free bread crumbs of your choice or if not gluten free use Italian herb bread crumbs.

1

tablespoon

of olive oil

used for cooking
Instructions
Mix quinoa, eggs, cilantro, carrots, garlic paste, onion, and salt until well blended.

Add the Chex or bread crumbs and mix thoroughly.

Take the mixture and form it into a burger patty. We use a 1/2 cup measuring cup sprayed with cooking oil to put mixture in. The cup creates perfectly shaped quinoa burgers as seen in my photograph. If burger patty does not keep form try adding a little bit more of the bread crumbs or if too dry add a little bit of water.

Heat olive oil in a large skillet on medium heat and place burger patties in the pan.

Cover the pan cook burger patties 5-7 minutes on one side and then flip your burger patties and cook for another 5-7 minutes. The sides of your burger patties should be a nice crispy brown, but not a burnt brown. Once burger patties are cooked, place them on a wire cookie rack to cool.

I find it is good to put paper towels or a towel under your wire rack to catch any of the oil and crumbs that fall off the burger patties.
These burger patties are a family favorite and we have them three to four times a month. I hope you enjoy them as much as we do. You can also make up the mixture and leave it in the refrigerator over night and cook burger patties the next day too. The burger patties also freeze well for later use and can be warmed in a microwave.
{Where I linky share}