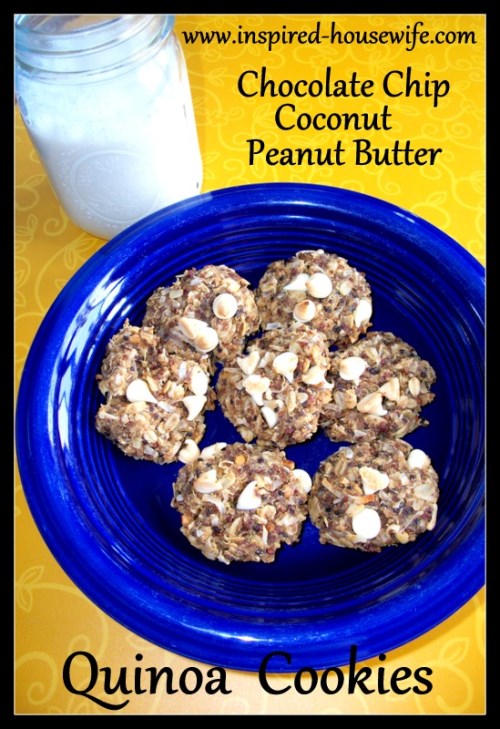 I am not a big fan of sweets, but there is nothing I love better than a tall glass of milk and a really chewy, moist, and yummy cookie.  To me the
perfect cookie must have chocolate chips
and a nice subtle flavor.  The other day my son Tristan asked me to make some cookies, and I love to bake and make fun treats with my kids, so I did.
I had some leftover plain cooked quinoa needing to be used that day, and I figured why not try to make a cookie with quinoa.  I know, two quinoa posts in one week could promote it a little too much, but I told you in my burger patty recipe how much I love quinoa!  Another ingredient I also love to cook with is rolled oats.  I make my kids oatmeal nearly every morning for breakfast, and I always add some brown sugar and butter.  Are you hungry yet?   Good because this cookie recipe I came up with is out of this world!
I have an energy ball recipe I love and used that flavor combination as a base.  If you love chocolate, peanut butter, and coconut you will love these quinoa coconut chocolate chip peanut butter gluten free and vegan healthier cookies.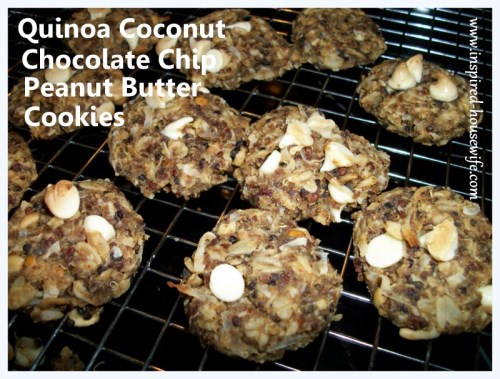 Quinoa Coconut Chocolate Chip Peanut Butter Cookies
Ingredients:
2 cups of cooked quinoa (2/3 uncooked quinoa with 1 1/3 cups of water read instructions on your box or bag on how to cook)
1 cup of certified gluten free rolled oats (or you can use regular if you are not gluten free)
1/2 cup of natural peanut butter
1/4 cup of honey
1/2 cup of shredded coconut
1/4 cup of ground flax seed
1/4 teaspoon of sea salt (omit if you used salty peanut butter)
1/2 cup of chocolate chips (I only happened to have white chocolate, but any chocolate chip will do!  Make sure if you use chocolate chips you use ones that are vegan friendly or use  raisins instead, the cookie would be vegan)
Parchment paper and a cookie sheet
Makes 10-15 depending on size you make them.
Instructions:
Preheat oven to 350 degrees Fahrenheit
In a medium bowl, first mix the honey, peanut butter, shredded coconut, salt, and flax seed.  Add in the rolled oats and quinoa half a cup at a time and mix until you have wonderful sticky mess in your bowl.  Take the chocolate chips or raisins if you want and mix those in.
Take about the size of a heaping tall tablespoon size of cookie dough and roll it into a ball.  Place on a cookie sheet covered in parchment paper then use the bottom of a glass to flatten out your cookie or else they will stay in the shape of a ball.
Bake your cookies for 15-18 minutes or until the bottoms of your cookies are a lovely golden brown.  Place on a wire rack to cool and enjoy!
I hope you enjoy these gluten free cookies as much as I did and now I one more reason to love quinoa.
XOXO
Amee
Where I Party: