Last time I discussed what the Dirty Dozen was in my 31 Days to Clean Eating, Meal Planning, Prep series and today I am sharing with you 15 clean fruits and veggies.
Knowing these 15 clean fruits and veggies will not only help your family eat healthier, but these foods are the lowest in pesticides use when talking about conventionally grown veggies and fruits.
My List of 15 Clean Fruits and Veggies
Avocados
Sweet corn
Pineapples
Cabbage
Sweet peas (frozen)
Onions
Asparagus
Mangos
Papayas
Kiwi
Eggplant
Grapefruit
Cantaloupe
Cauliflower
Sweet potatoes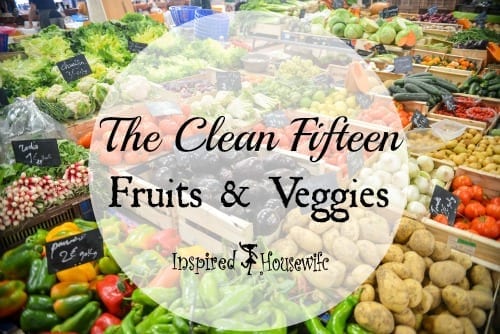 Do you have any favorites from the 15 clean fruits and veggies list?
I know we use a lot of the clean fifteen because it helps our budget.