Are you Communicating Assertively or Aggressively?
It doesn't matter who, where, when, or what, because someone somewhere at sometime will be offended by something. The most common offenses are hinged on one's recognition (or lack thereof) of the differences between two deceptively similar ideas: how to be assertive versus how to be aggressive.
Do you want to learn how to be assertive in your life? If so, that's great, but it could prove challenging.
Today's social climate is a balmy cesspool of hurt feelings. Many people are bitter and angry about things that happened in the past, disgusted with the present, and prematurely mourning the future.
If you don't believe me, simply turn on the news. But, I must warn you, you're in for a "this offends me" contest.
Assertive Communication 101: People are Individuals, Not Types
The temptation to speak in clichés and touch on stereotypes is truly an overwhelming one for anyone who attempts to discuss the topic of assertive behavior vs. aggressive behavior.
There are countless articles, books, and even films that sell the idea that entire groups of people, especially women, can be labeled and filed away as a "type" inclined toward one or the other.
Sexism, ageism, and racism are the label-makers for society. It's a dishonest filing system.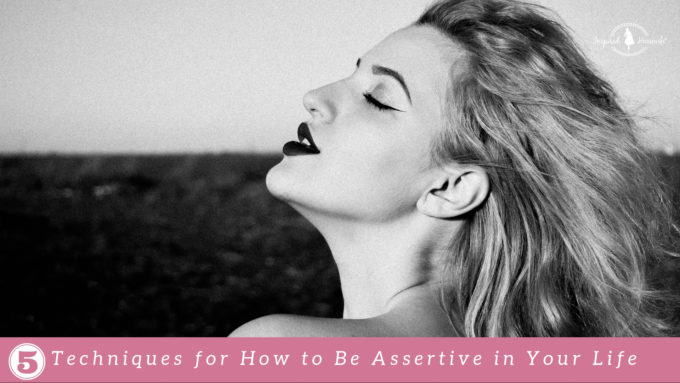 Whenever an "ism" of that nature enters the picture, the individuality of a woman is lost, and what a tragic loss it is.
Let's not fall prey to that here. Let's give the individuality of all women some room to grow and flourish.
We don't need "men get away with this" or "women tend to do that." We don't need to compare 20-year-olds to 40-year-olds or 50-year-olds to 30-year-olds. It's not a matter of "Black women do this" but "white women do that."
You're you and she's her and I'm me and the only "we" we want to be a part of is a chorus of voices who conduct assertive communication without having others misinterpret it as a savage Amazonian war cry.
In other words, I want for you to learn how to be more confident in your individuality without compromising your sociality.
And, I'd like us to do this without making assumptions about one another based on preconceived notions of "female types." Some would call this just "good manners," but in many cases, we take those good manners too far.
Before long, we find ourselves living the dream as doormats others can trample over and wipe their feet on. Or, we find the doormat routine tiresome and we start engaging in a little trampling of our own.
The ultimate goal in this journey is to be the doorway itself, not the doormat, and certainly not the trampling feet.
It all starts with recognizing individuality, the responsibility that comes with it, and understanding the difference between assertive communication and aggressive communication.
What Does Assertive Mean?
Assertiveness is a set of social and communicative skills that safeguard autonomy without crippling the autonomy of others. That's not to say that there won't be clashing opinions.
What it means is that those opinions won't be crammed down someone's throat.
Being assertive is about being informative.
It is not an act of enforcing your will, but an act of revealing it.
What Does Aggressive Mean?
Aggressiveness is a set of defense mechanisms concerning your "me, mine, ours" with no regards to hers.
Aggressiveness stems from fear—fear of failure, fear of having your authority questioned, fear of competition, fear of being forced into a corner, and mainly, fear of losing individuality, personal identity, and self-care rights.
Like assertiveness, it reveals the will, but in stark contrast, it is also the attempt to enforce that will upon others.
It's essentially a one-way ticket to losing friends and alienating people, which, oddly enough, is never the actual goal of a woman who conducts aggressive communication.
And, in fact, that's one of the most overwhelmingly overlooked facets of aggressive behavior and aggressive communication.
In most cases, it is a distinct feeling of dread when it comes to confrontation or opportunities that might induce a social conflict, that causes a generally timid, quiet, and/or introverted woman to make aggressive verbiage or exhibit physical mannerisms of aggression.
In other words, don't think that aggressive communication means a woman can be labeled as aggressive. It simply means she has yet to learn how to be more confident and how to be more assertive without baring her teeth.
It's also a very sure sign that those around her in social/work settings and in the home life have probably been exerting their will on her in an imbalanced and unchallenged manner—a common practice against women who are not assertive because they do not practice self-love techniques.
This is very much like the cause-and-effect we we see behind the scenes in children who bully other children.
It just goes to show that, sometimes, cornering a mouse will transform it into a lion.
Think twice (and compassionately) about the individual and the individual's struggles before you make a response or even allow yourself to have an opinion of her.
How to Be Assertive: 5 Communication Examples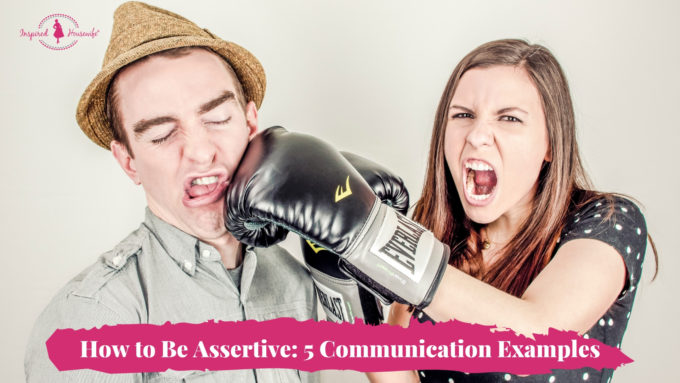 1. Body Language
Assertive: In everyday communications, there is one basic type of assertive body language women should immediately adopt.
It is not stiff, nor is it withered and complacent.
A woman's assertive body language involves an upright posture, loosely-squared shoulders and feet, a head held high, hands and arms in a resting position, direct but fluid eye contact, and her body free of fidgety movements.
This should be a rule, whether she's engaging in enjoyable dialogue or confrontational dialogue.
Aggressive: Aggressive body language in women is situational and dependent upon the fear of confrontation, as mentioned earlier.
When the springs are wound in a nervous, uncomfortable woman, her body will fidget, her hands and/or feet will be engaged in continual movement.
Her eyes will either shift away or maintain challenging contact, her chin—not her head—will be held high or her head will be downcast.
Her overall posture will be unnaturally/forcedly relaxed, puffed up to full height, or, in most cases, turned away from the other person.
In many cases, woman will attempt to portray a false appearance of relaxation and peace during a confrontation, but this is where her lack of eye contact and a sweeping, distracted gaze is a surefire tell.
Mind you, this is not a sign of guilt in her, but a sign of unease.
2. Expressing Opinions
Assertive: When an assertive woman expresses her opinion, she doesn't begin with "I'm sorry, but," nor does she attempt to qualify her opinions.
She states her opinion plainly, concisely, and in the language of respect, but makes no apology for it.
She doesn't end her opinion with, "Don't you think?" or "You know?"
It's what she thinks, it's the understanding that her observations and her experiences have developed in her.
Could she be wrong?
Most-certainly, yes, but presenting her opinion in the form of a question or an apology is a guaranteed way of making others believe she is wrong.
Aggressive: When a woman expresses her opinions in an aggressive fashion, she tends to confuse "experience" with "unfettered feelings."
There is absolutely nothing wrong with having feelings or reacting because of our feelings. If we want our opinions to be acknowledged and considered, however, we can't come barreling into a conversation with the belief that our feelings will automatically matter to other people.
We also can't let ourselves be deceived into believing that the strongest feelings or the loudest and most emotional expressions of those feelings are the truth, the whole truth, and nothing but the truth.
If we give free reign to expressing our opinions in this manner, nobody's going to take us seriously.
3. Making Requests
Assertive: An assertive woman says precisely what she means and indicates precisely what she wants without expressing doubt and confusion or creating doubt and confusion in others.
She doesn't play guessing games, nor does she try to set traps for others.
She doesn't put her husband in the position of having to presume upon her wishes and she doesn't make her children feel stupid or incapable of doing something to her liking.
There is no ambiguity about what's important to her, what her goals are, or what she expects from people.
An assertive woman recognizes that vague, open-ended answers and arbitrary tests of how observant other people are about her wants and needs are not helpful to anyone involved.
They certainly don't bring her any closer to the things she wants for herself and her family.
Aggressive: A woman who finds difficulty in making requests might feel undeserving of help or she might feel that she doesn't have the support she deserves.
Perhaps she has allowed others to walk all over her. Perhaps she was raised to just "put up and shut up."
This frequently puts her in a defensive state and she is often left to stew over the things she needs and wants and the people who don't automatically recognize these needs and wants.
She tests the waters with guessing games: I don't want him to spend our money on that, she thinks to herself. Instead, she says with an insincere tone that she hopes he picks up on, "If that's what you think is best."
Without thinking it through, she has laid a trap for him that can only end in failure on his part and dissatisfaction on her part.
It's the same exact concept behind the thought, I'm not going to say anything and I bet he forgets our anniversary.
Neither party benefits from this—not in the home with a spouse, not in the workplace with coworkers, and not in the realm of friendship.
In fact, it is more of an aggressive, unfruitful move against ourselves than anything else.
4. Handling the Perspective of Others
Assertive: An assertive woman has things to say but recognizes that she's not talking to herself and can admit wholeheartedly that a world comprised of billions of her clones would be a pretty lame place to live.
She doesn't have to agree with someone to hear them out and give them the same time and attention she wants given to her own perspectives.
She doesn't listen to the voice in her head that keeps repeating her next line while the other person is still trying to share why they agree or disagree with her.
An assertive woman allows and promotes assertiveness in others, regardless of where they land on the spectrum between assertive communication and aggressive communication.
Aggressive: This one is more obvious. Aggressive communication in a woman is made clear when she isn't interested in hearing the perspective of someone else.
In extreme cases, her feelings are facts. Her opinions cannot be questioned. She is the only one wronged. She is the only one right. You weren't there, you don't know. You've never experienced this. You've never walked in my shoes.
A more common case would be a mother who won't give her crying or angry child a chance to explain why they were disobedient for the tenth time that hour.
A wife has had quite enough of her husband's shenanigans and can't even bear another moment listening to his side of the story.
A woman with strong beliefs ingrained in her since birth can't even conceive of the idea that someone else simply can't agree with her or see things her way because it's like they came from different worlds (even though they pretty much have).
Now, before we make assumptions about women who conduct themselves in this way, let's get one thing straight: they're not she-wolves. Their aggressive handling of the perspectives of others can't be blamed on an inherent "meanness" or a "type."
These women are individuals who feel strongly about something and maybe they've just now found their voice after years of being inhibited by something or someone.
Behind that sensitivity, impatience, and temper, is a genuine passion for some cause that maybe you yourself haven't given much thought to.
Acknowledging their perspective teaches them how to be more mindful of others' perspectives in the future.
5. Intercourse in the Face of Differing Opinions
Assertive: An assertive woman wants results, not obstacles.
She is willing to negotiate and come to whatever agreement can be made out of a disagreement.
She doesn't focus so much on the whys behind someone's opposing view, but the hows of bringing the two opinions into as much harmony as possible.
What can I do to make her feel less judged by me like she claims to be?
How can I show him that, while I don't care about his hobbies, I care about his need to have hobbies?
How can we work together to create funding for what's important to them without completely neglecting what's important to me?
She doesn't have to invest feelings into their opinions. She doesn't have to feel anything at all about their plight.
She merely has to do what she would like someone else to do for her if the roles were reversed.
Aggressive: An aggressive communicator may have a valid and long, overly-stimulated reason behind her differing opinion, but it's how she resolves the differences that matters most.
Does she push a personal vendetta because of her pain? Is she working toward mutual advantage?
If she's trapped in a "but they're wrong!" mindset and she just can't stomach the idea of letting them have any satisfaction because they're "in the wrong" to some degree, then she has nothing but strife to look forward to in that relationship, even if hers truly is the correct opinion.
Conclusion
I'd like to revisit the topic of assertive communication sometime soon, but for now, let's think about the differences we've discussed here.
We owe it to ourselves to be honest about what kind of communicator we've been in the past.
We owe it to our friends, coworkers, and family to lay aside the blame and the hurt feelings for a moment and really ponder whether it's our habits and our thinking that have led to the ineffectual communication between us.
It could be that we've been consistently respectful toward them, but we're guilty of not making our requests more clear. Or, it could be their fault entirely.
We can't expect them, however, to think over their communicative habits if we don't show a willingness scrutinize our own.
We've all been mistreated and overlooked and neglected in some way in the home or the workplace. We all have experiences that have developed in us our particular communication style.
The key is to recognize our tendencies and acknowledge—with sincerity—what those tendencies have brought us: success or further heartache.
Do you want to learn how to be assertive?
What type of communicator are you?
Do you believe a woman can be assertive without convincing everyone around her she's an aggressor?
If you are only now becoming more assertive in your communication with others, what do you wish you could tell a younger version of yourself about how to be more confident?