I know I've been sharing a lot lately about self-confidence and self-esteem, but a thought occurred to me: Can we develop a healthy self-love without eventually becoming arrogant? Can we learn how to be humble and confident simultaneously?
I believe both answers are "yes," especially for those of us who have really had our self-image dragged through the mud in the past.
We know what it feels like to be at the mercy of self-centered individuals.
I don't know about you ladies, but I find absolutely nothing appealing about being a self-centered woman.
This is why I think it's good for us to take a moment and really consider how to be humble.
What Does it Mean to Be Humble?
When you humble yourself, does it just mean you avoid being arrogant?
When you decide that you're going to be humble, is it simply a matter of always remembering where you came from?
No, it's more than just avoiding things and remembering things.
In fact, it's hard to be humble because, so often, it's considered an act of having a low estimate of your own importance, which definitely feels like a snag in this whole self-care and self-love journey, doesn't it?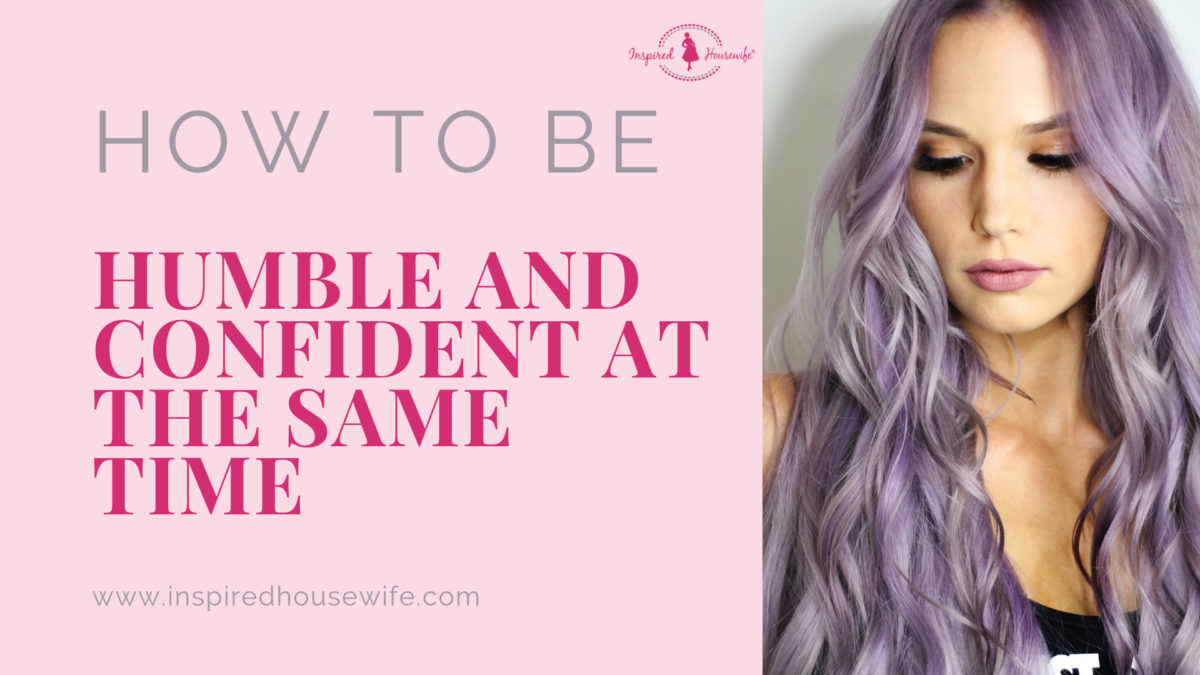 Here's how I want to us to approach the "What does it mean to be humble?"dilemma:
I am important and that's why I engage in activities that improve upon my value and put my worth on full display for others, but I recognize that I am no more important than the next woman, even if she makes choices that I frown upon.
In other words, my value does not decrease the value of others.
This is such an important mantra because every single circumstance in our lives presents the opportunity to behave well or behave badly.
It doesn't matter where we came from, there are those of us who have had everything handed to us and there are those of us who have worked ourselves to the bone.
There are wives who have only known a marriage full of roses and chocolates, and there are wives who have had to fight hard to get their husband to even recognize their worth.
There are mothers who are naturally talented, patient, sweet, and full of maternal wisdom and there are the rest who have basically learned the ropes along the way by the grit of their teeth.
Both types of women are valuable, both types of women have created success or are in the process of creating success. Neither one has the right to be prideful or look down on the other.
Whatever value there is in one, does not top or negate the value in the other.
Think about your sons or your daughters. Do you want them parading about as if they're God's gift to the world? Or do you prefer to see your children recognizing their gifts and brainstorming how they can share them with others?
How often do we see men and women who think so highly of themselves that they neglect to think anything of anyone else? Are these people happy? For a short time, sure, especially if they're being idolized by others.
Time and time again, however, we hear of the "beautiful people" or the "celebrities" falling into deep depression. Why is that?
It's simple.
Having a positive self-image is important.
Developing high self-esteem is vital.
These are necessary for the happiness and success of every single person, but they're a complete waste on someone who is willing to misuse what is so hard to come by for most of us (a positive self regard).
Arrogance and selfishness is a plague on every society. Entire empires have fallen as a result of highly-capable and potentially-wonderful men and women lacking humility.
Let's be different.
As we maneuver our way from low self-esteem to high self-esteem, let's teach ourselves how to be proud without being arrogant.
It's completely possible to be humble without losing ground on the journey to self-love. Yes!
We can learn how to have humility and confidence at the same time. These two traits can coexist without a negative aspect to either.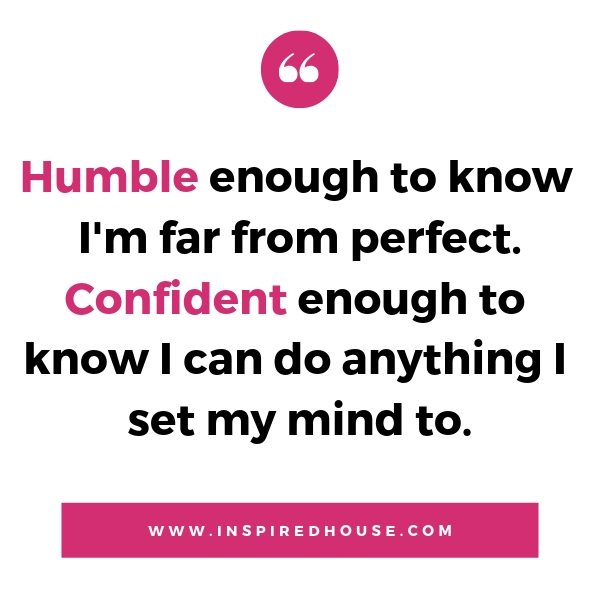 How to Be Humble and Confident at the Same Time
1. You're not as special as you think you are
Accept that—while self-love takes honest, consistent work—achieving self-love is just a necessary component of living an adequate life and, in no way, makes you special or worthy of praise.
Think of self-love activities the same way you would general hygiene.
It's vital, but it's also what everyone should be doing anyway.
You're no better than so-and-so just because you invest more in yourself or take a bubble bath once a week.
The fact that so-and-so is unhappy or conducts herself in a manner you feel is less than ladylike only means that you've failed her as a fellow woman when it comes to teaching her the importance of self-love.
If she truly loved herself, she'd have the capacity to shine and exhibit genuine love for others, too.
2. You're not the best—sorry
There will always be a woman out there who is better than you.
She's smarter, more successful, and more beautiful without hardly any effort at all.
She's a better mother, a better wife, a better housekeeper, a better entrepreneur.
You haven't even met her yet and she's already put you to shame. But, I guarantee that if or when you do meet her, she'll be warm and inviting, helpful and supportive.
Why?
Because she didn't get to where she's at because of her arrogance.
She's better than most because she knows what she has to offer but she's unwilling to step on people to reach her goals.
She's everything you want to be, so think about her as you invest and indulge in yourself and the things that make you happy.
Strive to someday be that confident but humble woman for other women who are on the same journey as you.
3. You don't appreciate or take responsibility for the things that make you look bad
Happy and successful women will always tell you that it didn't used to be this way.
They'll share the horror stories of their past, they'll even admit to their failures, but they'll never tell you that these experiences were a complete waste of their time and energy.
They've learned from every single problem area in their lives.
Have you?
That's the thing about pride, we find some achievement worth gloating over, but we completely ignore the fact that the solution to the problem isn't the best part, it was the act of solving the problem to begin with.
Unfortunately, so many of us want to forget the process and we want to just focus on the here and the now.
This is a disservice to ourselves and to others.
Part of being happy but humble in our successes is wearing our failures on our sleeves.
This can be done without losing our hold on a positive self-image, while simultaneously giving someone else the strength to push forward and not give up in their own journey.
If successful, worthwhile people never failed and never experienced weakness, if everything came naturally and easily to them, then what hope is there for the rest of us?
4. You're not the only source of happiness and wisdom for those you care about
Learn to pass the torch to others for the sake of others.
Part of being humble is about wanting the best for others, even if it doesn't benefit you or your reputation at all.
Let your own mother advise and comfort your children.
Allow a step-mother to be just another source of love and sweetness for your children.
Let your husband makes friends and spend time with them.
Point your employees in the direction of your own guru and source of inspiration instead of filtering all the wisdom from someone else through yourself.
For instance, I'm extremely tempted to make a 10-point list of all the steps I believe could lead us into a greater experience of humility.
After doing some research, I've discovered that there are so many men and women out there who have expressed this idea so beautifully and so succinctly.
I can't help but be eager for you to check out the advice that they give.
So, allow me to pass the torch at this point by suggesting you not only click on the links above and throughout this blog post.
Be sure to visit this list of six things to do to help you be more humble, written by Patty Onderko.
Closing Thoughts
Like I said, learning how to be humble and confident at the same time, especially if we're struggling with low self-esteem.
It's just part of our human nature to latch onto something good we see in ourselves and to be prideful about it.
With a little bit of mindfulness, we can develop and maintain our high points without giving others the impression that our confidence is our lowest point.
It's hard to be humble, but having a healthy self-image isn't cultivated by damaging the self-image of others.
It most-certainly isn't useful to us if it gives others the impression that self-confidence breeds arrogance.
What have you learned from your experiences with arrogant women?
In what ways have you been able to feel good about yourself and your talents without making others feel you are arrogant?
Do you have any advice to add that could help us really embrace this idea of how to be humble and confident, but still love ourselves?