Welcome to the Twelve Days of Christmas I am so happy to have you with me during this fun blog series.
Today I am sharing with you my holiday bucket list ideas to help you make your Christmas season a little more festive.
When creating my holiday bucket list I wanted traditional, fun, and out of the box ideas.
Holiday Bucket List in a Jar
Look at Christmas Lights with my family
Dance, sing, and listen to my favorite Christmas music.
Bake Healthy Holiday Cookies and Treats
Take a Funny Family Photo
Do a Holiday cleanse (Completed)
Watch Christmas Movies with the Family
Kiss under the mistletoe
Play in the snow
Take kids to see Santa
Tell my husband three things I am thankful about him.
Create a clean eating holiday recipe
Make ME a priority – Workout 5 days a week during the holidays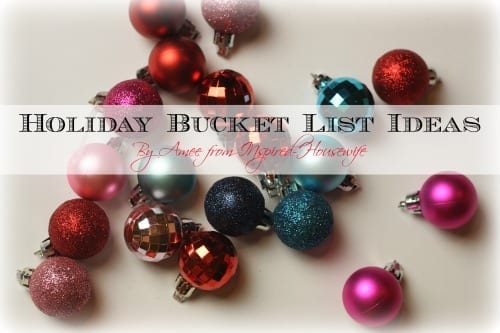 Pay if forward to someone
Make a Christmas Craft with my kids (Completed)
Go to one person's Facebook wall and tell them something you appreciate about them.
Read Twas the Night Before Christmas
Attend a Christmas Parade
Trim the Tree (Completed)
Drink hot coco with whipped cream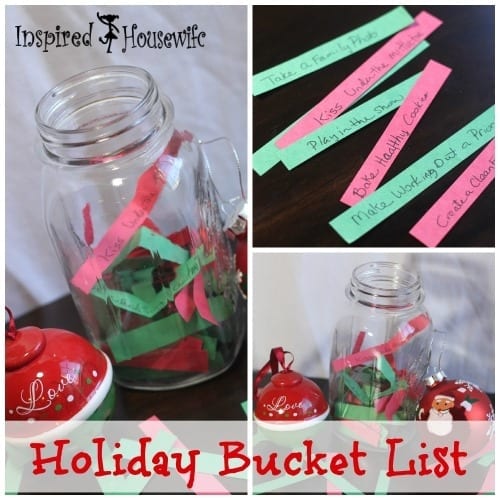 Make a top 10 list for the New Year
Wrap presents and drink wine
Sit by the fire and give foot rubs
Buy a Christmas Tree ornament for each kid (Completed)
What is on your Christmas bucket list?
Share your ideas in the comments.